Decatur Car Battery Service
Discover when to have your Nissan car battery serviced or replaced by watching this video.
Have you had your Nissan car battery for more than three years? If so, chances are you may need a new one sooner than you think. Most car batteries are considered old once they hit the three-year mark, and depending on the climate in your area, you could even find yourself replacing your battery in under three years.
Take a look at these top warning signs your battery is one foot out the door to discover if you are in need of battery replacement in Decatur:
Low battery fluid
Slow engine crank
Dim headlights
Swollen battery case
Battery leak
Check engine light is on
Take your car into our service center right away if you notice any of these symptoms. From there, our team of certified, factory-trained technicians will assess your battery to determine if it's time for a new one.
How Do I Prolong the Life of My Nissan Car Battery?
You can help protect your car battery by following proper Nissan battery maintenance practices. At least once a year, schedule an appointment with our service center to have your battery inspected. Here are our top battery services:
Battery Diagnostic Test
This simple test can help determine if your battery is on its last leg. It's also one of these easiest ways to discover if you need battery replacement in Decatur.
Battery Terminal Cleaning
Your battery terminals can become dirty or corroded, which will lead to battery failure if not corrected. To prevent this from happening, routine battery terminal cleaning is a must. Our technician can even use an  anti-corrosion spray to help protect the terminals in the future.
Battery Cable End Inspection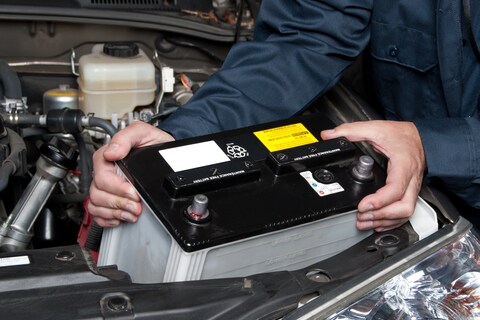 Damaged battery cable ends can cause your battery to stop working, which is why you should have them inspected on occasion. If needed, they can be replaced, saving you from having to purchase a new battery.
In addition to following these practices, you should always shut off all of the lights in your car before exiting the vehicle and unplug any power adapters when they're not in use. This will help keep you from prematurely draining your Nissan car battery.
Nissan Battery Replacement
When you do find yourself in need of Nissan battery replacement, head over to Crown Nissan of Decatur! We offer competitive car battery prices on a wide range of brands, including Duralast. Our team of skilled technicians can help you choose the ideal battery for your Nissan car, truck or SUV and get you back out on the road in no time.
For more information about our battery inventory and car battery maintenance services, contact us today!
Hours
Monday

7:00 am - 3:00 pm

Tuesday

7:00 am - 3:00 pm

Wednesday

7:00 am - 3:00 pm

Thursday

7:00 am - 3:00 pm

Friday

7:00 am - 3:00 pm

Saturday

7:30 am - 12:00 pm

Sunday

Closed