Cruising around the Decatur area in a hot car can be uncomfortable, and there are times when it can even be detrimental to your well-being. On warmer days, the use of your Nissan's air conditioner is critical. All components in your vehicle have been made with quality and longevity in mind. However, as you put miles on your vehicle, dirt as well as wear and tear can create repair issues that require attention. There are many signs of AC trouble that indicate the need for service, such as an unusual odor, weak airflow or difficulty maintaining an ideal temperature. For any type of AC service needed on your Nissan, turn to our dependable and trusted team for assistance.
My AC Is Not Cooling the Air. What Is Causing This?
When some components in your car's AC system are damaged or dirty, you may notice that the system does not cool the air as desired. If the airflow begins warmer and stays warmer than desired, the problem may be related to the vacuum seals, the condenser, the blower, the compressor or several other features. Some drivers may notice that cool air blows through the vents for a minute or two, but it quickly becomes uncomfortably warm. If this is the case with your car's AC system, damage to the compressor clutch, fuses or valves could be responsible. Our friendly and experienced technicians are certified in all areas of Nissan maintenance and repair, and we can quickly identify and repair the problem with your vehicle's air conditioner system.
Why Is My Car's AC System Only Blowing a Little Air Through the Air Vents?

Your vehicle's air conditioning system should respond immediately to your adjustment of the control settings. If you adjust the setting so that air should blow at a high level, you expect to feel a comfortable stream of cooled air. However, issues related to a moldy evaporator case, leaky hoses or damage to the seals could result in a weak stream of air regardless of the settings that you select. Rest assured that our certified auto techs can address all of these issues quickly so that you can enjoy full use of your Nissan air conditioner.
Is My Nissan's AC Leaking?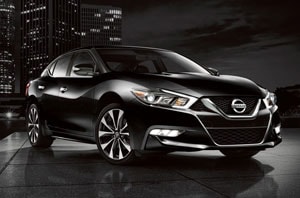 Signs of a leak in the AC system may be different than what you would anticipate them to be. Some drivers think that a leaky AC system would cause moisture to drip underneath the car when the air conditioner is on. This type of moisture is normal and is not a cause for concern. A leaky AC system will generally make it difficult to control the temperature or airflow from the vents. In addition to causing discomfort in your car on warm days, this can also allow moisture from outside the AC system to enter the components. A corrosive material develops when the AC's refrigerant and this moisture interact, and this can create substantial damage to the system. If you notice any signs of an AC leak, immediate service from our certified techs is a smart idea.
Why Is My Nissan's AC Generating Stinky Air?
Some types of AC repair issues can result in an unpleasant smell coming from your car's air vents. This smell may be similar to that of rotting eggs, a dirty gym bag or related items. A dirty air filter is a common cause of this odorous problem, and it is remedied by replacing the filter. A growth of mold on the evaporator case can also cause this smell. The cause of this mold growth may be moisture from a clogged line. The remedy is to remove the clog and clear away the mold. Regardless of the symptoms that your Nissan's AC is displaying, we have the skills to quickly improve the condition of your system.
Service Hours
Monday

7:00 am - 3:00 pm

Tuesday

7:00 am - 3:00 pm

Wednesday

7:00 am - 3:00 pm

Thursday

7:00 am - 3:00 pm

Friday

7:00 am - 3:00 pm

Saturday

7:30 am - 12:00 pm

Sunday

Closed