Take a Look Decatur Nissan Shoppers - the Leaf has Arrived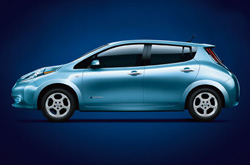 EV shoppers are invited to come test drive the new 2014 Nissan LEAF at our dealership in Decatur, Illinois. Four years ago, it revolutionized the automotive industry and defied the odds when it gained success as the nation's first mass-produced 100-percent electric vehicle. While it has more competitors today than it did in the past, Nissan's electric car remains a "smart choice" for EV buyers, according to Edmunds' 2014 LEAF review.
The award-winning electric hatchback is offered in S, SV and SL trim levels. The S debuted just last year, as a more affordable entry into the lineup. 2013 also saw the introduction of an advanced new 6.6 kW onboard charger, which is standard on upper trims and optional on the S. It helps reduce vehicle charging time by up to 50 percent, so it's an excellent upgrade for shoppers who purchase the base model. LEAF also received an increase in cargo volume last year, offering added utility for its buyers.
2014 sees even more improvements with the addition of a RearView Monitor, which is now standard on all models. The car's telematics system also receives updates, with new SMS readout and voice-controlled destination entry functions. In addition to changes implemented over the 2013 and 2014 model years, a long list of luxury standard features carry over unchanged, including: heated front and rear seats, a heated leather-bound steering wheel, Bluetooth phone connectivity, CARWINGS telematics (SV & SL), satellite radio, a USB/iPod interface and more.
For additional information about each model's standard features, and for more details about this year's changes to the lineup, please call or stop by our dealership, where you can find the new 2014 Nissan LEAF for sale in Decatur, Illinois. We look forward to assisting you!
Our Nissan LEAF review continues below with a quick list of vehicle specifications and video of the car.