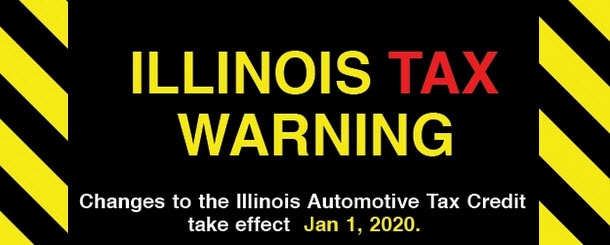 If you live in Illinois and are thinking about trading in your car, truck or SUV, now is the time to do so.
You have the opportunity to get more for your vehicle if you trade it in before the end of the year, due to a new trade-in tax that's coming to Illinois in 2020. The new tax will be applied to any used vehicles with trade-in values over $10,000.
Not sure how much your car is worth? Click here to get an online vehicle appraisal. If you have a high-value used car, make sure you trade it in with us before end of year and avoid getting a lower trade-in credit.
The new tax, which is part of Senate Bill 690, is anticipated to cost $60 million per year to consumers in Illinois. This money will be used to fund new vertical infrastructure across the state.
An example of how this will affect vehicle trades is included below, using a combined state and local sales tax estimation.
Example of a $15,000 Trade-in Value Vehicle
NOW
New vehicle price: $35,000
Trade-in tax credit: -$15,000
Taxable amount: $20,000
Sales tax: $1,748
AFTER 1/1/2020
New vehicle price: $35,000
Trade-in tax credit: -$10,000
Taxable amount: $25,000
Sales tax: $2,185 (+$437)