Crown Nissan Shows Off the New Nissan Juke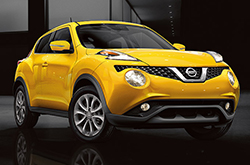 Back on the market for the 2016 model year is the highly eccentric Nissan Juke. Available in three models, Juke, Juke Nismo and Juke Nismo RS, the crossover caters to a wide variety of buyers, including those interested in owning a high-performance CUV. Primarily unchanged, the 2016 Nissan Juke continues to offer sport handling, optional all-wheel drive and excellent performance. However, all models do receive standard Apple Siri Eyes Free for 2016, while the standard model offers two new Personal Package options. For more information about these components and others, read our 2016 Nissan Juke review below.

The addition of Siri Eyes Free as a standard feature on all Nissan Juke models is greatly beneficial to iPhone users. With this feature, drivers can now access Siri from a button on the car's steering wheel and make requests using the car's voice-recognition system. If you want to play a certain song, make a call, send a text, get directions or receive weather updates, Siri can easily perform each of these things while helping to eliminate driver distractions. Aside from this tech update, the standard 2016 Nissan Juke in Decatur now offers two Personal Package options: Black Stinger and Yellow Stinger Editions. Following a color pattern similar to a bumblebee, each model receives black or yellow painted door handles and outside mirrors, along with yellow interior stitching/seat inserts and a yellow center console.

All models of the 2016 Nissan Juke in Decatur come with a 1.6L turbo four-cylinder engine. On the standard Juke and Juke Nismo, the displacement outputs 188 horsepower and 177 lb.-ft. of torque, while the Juke Nismo RS gets an updated version of the engine that churns out 215 horsepower and 210 lb.-ft. of torque. If you're looking for a crossover that delivers a bit more power than normal, we'd suggest going with the Juke Nismo RS.
Want to learn more about the Juke? Scroll down and continue browsing our 2016 Nissan Juke review.