About the Nissan Altima in Decatur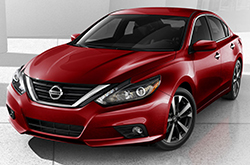 The brand-new 2016  Nissan Altima is the latest model in Nissan's lineup to  feature their new "Energetic Flow" design language. It dons a V-motion grille,  a dramatic front fascia, crisp character lines, boomerang headlights and  updated fenders. In addition to these modifications, the sedan comes with a  variety of new safety technologies and offers a brand-new SR trim that is  perfect for drivers who are interested in a sportier driving feel. Read our  2016 Nissan Altima review to acquire further info about these features and  others available on the new model this year.

 To ensure the 2016 Nissan Altima in Decatur is secure for  all in-car occupants, Nissan added a few more safety technologies to its suite  of advanced features. All safety components now offered on the sedan include  Rear Cross-Traffic Alert, Intelligent Cruise Control, Forward Collision Warning  and Blind Spot Warning. Aside from these first-class components, the Altima  also gains a new SR trim this year that comes with everything from paddle  shifters, suspension tuning and a rear spoiler to 18-inch aluminum-alloy wheels  and smoked headlights. If you're looking for a bit more power, this is the  model you'll want to own.

 Buyers of the new 2016 Nissan Altima in Decatur can choose  between outfitting the vehicle with either a four-cylinder engine or V6. The  2.5L inline four-cylinder generates 182 horsepower, while the more powerful V6  churns out 270 horsepower. For buyers who are interested in obtaining  outstanding fuel economy from the Altima, the four-cylinder displacement is the  way to go. It produces an EPA-estimated 39 mpg highway and is well-liked by  Nissan Altima owners.

 Need more details about the Altima? Continue reading our  2016 Nissan Altima review below. You'll find spec information about the new  model and have the chance to take a look at our 360-degree video review.