Decatur Nissan Dealer Researches the New Xterra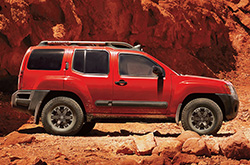 The 2015 Nissan Xterra continues the SUV supremacy as the go-to SUV for weekend warriors who want a car to take them into the wood and beyond. The 2015 model year carries over most of its predecessor's features with a few new enhancements showing up on the S model, which round out the fun and functional aspects of this terrific SUV. Stay tuned to our 2015 Nissan Xterra review as we walk you through the SUV's newest model year.

New features on the 2015 Xterra are mainly on the base S model that include a new paint color and several new tech amenities. SUV shoppers will have their choice of Beacon Yellow on the 2015 Nissan Xterra. Decatur drivers will also have a variety of choices in terms of tech with the S model including NissanConnect, a five-inch color display, Bluetooth connectivity, hands-free messaging and USB/iPod ports. 2015 Xterra drivers can now subscribe to SiriusXM Satellite Radio for expanded in-car entertainment.

Our 2015 Nissan Xterra review especially likes the 4.0-liter V6 engine that rates at a powerful 261 horsepower and 281 lb.-ft. of torque. Two-and four-wheel drive is offered on the 2015 Nissan Xterra in Decatur. The two-wheel drive gets a five-speed automatic transmission, while the four-wheel option gets either a six-speed manual or automatic transmission.

The Xterra's interior is perfect for those taking the SUV camping or off-roading, with the Xterra offering extra storage space, tough upholstery and easy-to-clean surfaces. Also look for a double glovebox and large center console, Hill Start Assist, electronic stability control, Hill Descent Control and 66 cubic feet of cargo space, all features that make the Xterra the ideal choice for those who spend their weekends by the lake or in the woods.

The 2015 Nissan Xterra is now available at Crown Nissan, so stop by our showroom at 165 W. Pershing Road and test drive this excellent SUV today!