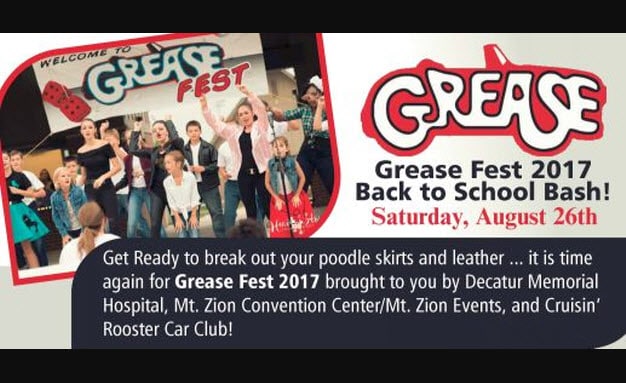 Get your kids ready to head back to school by attending the upcoming Grease Fest 2017 Back to School Bash on Saturday, August 26, 2017. The event, which will be held at Fletcher Park in Mt. Zion, will feature contests and activities for the kids, allowing them to enjoy one last summer event before school is back in session!
Grease Fest 2017 is a 50's festival featuring a variety of interactive activities for kids of all ages. During the outing, which runs from 4 p.m. to 10 p.m., attendees will be able to take part in everything from a vintage car show, an authentic Sock-Hop, face painting, a costume contest, a hula hoop contest and a performance by the Mt. Zion cheerleaders. On top of these activities, there will be an exclusive Rydell High bonfire at 8 p.m., which will be followed by a showing of Grease on the Amphitheater lawn.
Food will be available for purchase throughout the event and the Mt. Zion Football Booster will be selling items during the evening. If you're interested in attending the bash, admission is $4 at the gate and free for kids four and under. For a full list of the night's events, please click here.