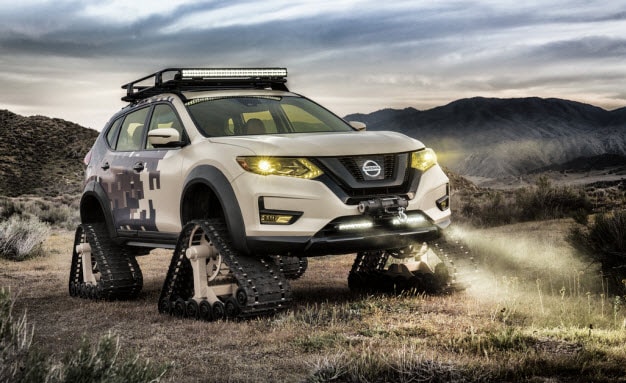 The 2017 Rogue is no stranger to adventure, and this is just one of many reasons why it's Nissan's best-selling model. To take its capabilities to new heights, the brand recently developed a project vehicle based on the 2017 model, Rogue Trail Warrior, which features a host of extravagant upgrades you have to see to believe!
Conquering desert and mountainous terrain is made easy with the Rogue Trail Warrior. The SUV swaps out tires for khaki-painted DOMINATOR Tracks that can dominate both snow and sand with little effort. Measuring 48 inches long, 30 inches high and 15 inches wide, the tracks receive support from a modified suspension, along with the Rogue's factory issued Xtronic transmission and 2.5L engine, delivering 170 horsepower and 175 lb.-ft. of torque.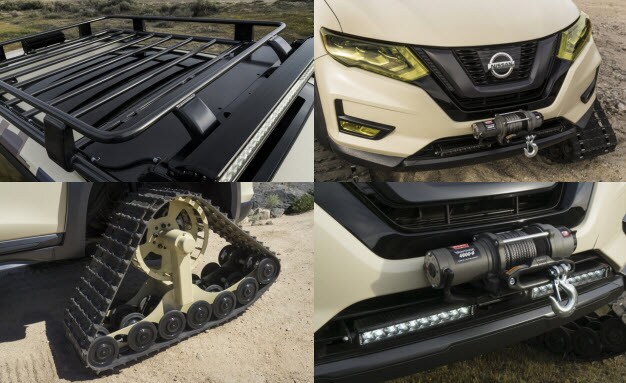 A range of equipment accompanies the new tracks, including custom fender flares, tinted headlights, LED lights, a Warn 4K winch and ARB Gear Basket. The exterior also dons a camouflage body wrap and military-style yellow glassworks, which complete its adventure-ready appearance.
"This new Rogue Trail Warrior adds a new dimension to family adventures with its snow/sand tracks, gear basket, winch and camo paint," said Michael Bunce, vice president, Product Planning, Nissan North America, Inc. "If you want to stand out from the crowd during a day on the slopes or the beach, this is the vehicle to take."
Learn more about the Rogue Trail Warrior Project in the video below.
?