2013 Versa Research and Review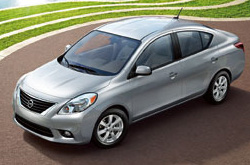 You can find a complete 2013 Nissan Versa review below the video. It's hard to find the hard facts all in one spot. Crown Nissan of Decatur arranges these reviews so you have the best resources from the best writers. As you read this article, you'll see that it is crammed with beneficial information on all of the things you'r looking for in the new Versa. Can you see the Versa parked in your driveway? You won't know unless you read on!
2013 Versa vs the Competition - Compare Features & Specs
When considering the 2013 Nissan Versa head-to-head with the 2013 Hyundai Accent, Chevy Sonic and the Ford Fiesta, and you can discover that the Versa trumps those autos in quite a few parts. Look through the hightlights below.
2013 Nissan Versa Body Style(s): Compact Sedan
2013 Nissan Versa 0-60 MPH in 11.8 seconds
2013 Nissan Versa Colors: Super Black, Fresh Powder, Blue Onyx, Metallic Blue, etc...
2013 Nissan Versa MPG: 27 city / 36 highway
2013 Nissan Versa Cargo Space: 13.8 cubic feet
2013 Nissan Versa MSRP: $11,990
2013 Nissan Versa Seats: 5 passengers
Compare a Crown Nissan of Decatur trade-in quote to the competition
Trim Levels & Amenities for Decatur Nissan Versa Drivers
Crown Nissan of Decatur's Service Center Is Here for You
Our Nissan dealership in Decatur is planted near a long list of local cities! So, you're a short cruise away from obtaining bona fide OEM parts and work from Nissan technicians! We also give our customers confidence with a 12-month warranty on repairs! If you forget about getting quality repair work, your Nissan Versa's stamina might be compromised, so bring it to the expert mechanics at Crown Nissan of Decatur. Our techs can take care of a diverse set of jobs - from demanding stuff like Nissan shock and strut repair to less intricate operations like serpentine belt and tire rotation and replacement. On top of this you can reckon on getting modest prices on all jobs, as well as personalized service every time you come to Crown Nissan of Decatur. The next time you come to our service department, take a coupon! Just click the link underneath this text for specials.