Take a Look Decatur Nissan Shoppers - the Armada has Arrived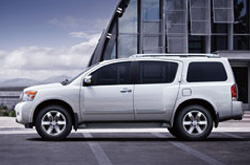 Thank you for selecting Crown Nissan of Decatur as your source for 2013 Nissan Armada reviews. Where do we get these Armada reviews? From foremost writers in their industry. Every article comes crammed with important data, specs and research - just what you need to make versed decisions on your next Nissan Armada purchase. Read on to see if the 2013 Armada should be parked outside your home.
Armada Video Review - Specs, Features & More
Quick Stats for the Nissan Armada
When comparing the 2013 Nissan Armada side-by-side with the 2013 Toyota Sequoia, Buick Enclave and the Ford Expedition, and you'll find that the Armada transcends those autos in various aspects. Get a load of just a few of the reasons below.
2013 Nissan Armada Body Style(s): SUV
2013 Nissan Armada MPG: 13 city / 19 highway
2013 Nissan Armada Seats: 8 passengers
2013 Nissan Armada Cargo Space: 97 cubic feet
2013 Nissan Armada MSRP: $39,870
2013 Nissan Armada 0-60 MPH in 7.9 seconds
2013 Nissan Armada Colors: Brilliant Silver, Galaxy Black, Midnight Garnett, etc...
Compare a Crown Nissan of Decatur trade-in quote to the competition
Engine Specs: See What's Under the 2013 Armada's Hood
Warranty & Safety Information for Decatur Armada Owners
Maintaining Your Investment - We're Here to Help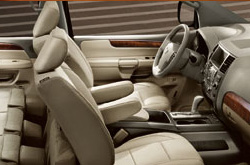 Unlike chain auto centers, our Decatur car repair facility offers authentic OEM parts, amazing Nissan trained technicians and a no-charge warranty for all services. We're also conveniently lodged near copious neighboring cities. If you shrug off protecting your Armada, its physical shape could shatter, so bring it to Crown Nissan of Decatur's service center in Decatur. The following is just a portion of what we handle: front and rear brake pad fixes, muffler repairs, windshield wiper replacement and much more. We also work on a wide array of other special services. What's more, Crown Nissan of Decatur offers superior customer service and cut-rate prices. Save money on your next service appointment - click the link below to learn more.